Canvas Art - Hallway
The hallway is the central passageway in every house. From there you can go to the different rooms. That's why the hallway is the first thing that awaits us when we come home after a long day at work or when we show friends our own living area.
For this reason, you should pay a lot of attention to the hallway and design it in such a way that it underlines your own style in the best possible way. However, hallways are often not very spacious, which is why pieces of furniture cannot be placed well in them. On the other hand, where you have a lot of free space is on the walls. And what could be nicer than upgrading bare hallway walls with a tasteful picture that repeatedly awakens positive associations in us and our visitors?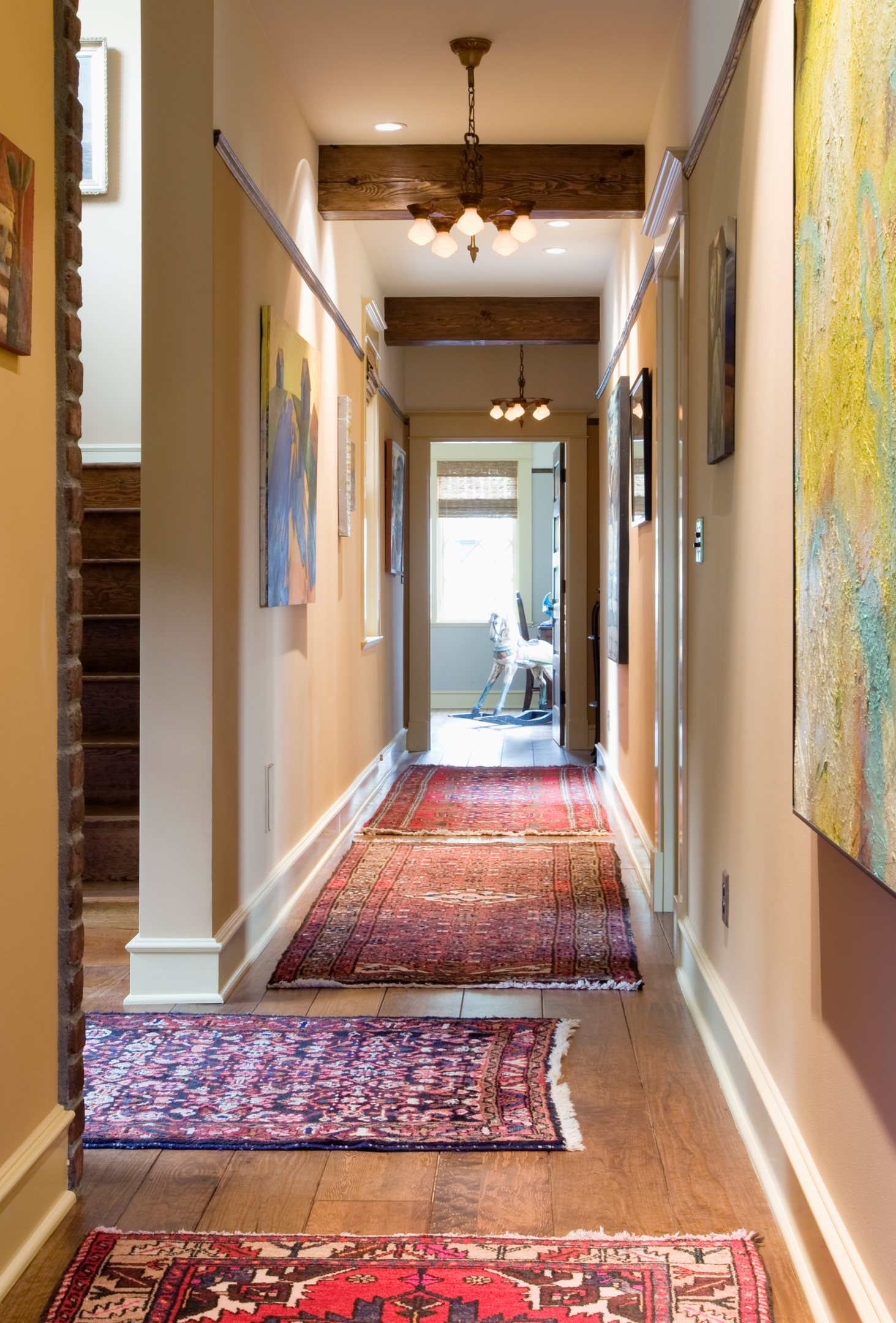 Decorative art for refreshing accents
Canvas prints can be many things: decorative, artistic, motivating, abstract or realistic. However, all murals create a very special atmosphere in the room . There is something for every taste in our shop: canvas prints with photo motifs, motivating sayings, illustrations of artistic paintings and cute animal pictures .
Which type of canvas picture you should choose depends primarily on your own taste. However, it is also important that it optimally sets the scene for the entrance area. So you can not only look at your favorites again and again, but also proudly present them to your guests , who are guaranteed to want to look at the rest of the apartment or house.
With us you will not only find wall pictures for the hallway, but also suitable canvas pictures for the office .
Breathtaking works from diverse genres
Hardly anything is as devastating as feeling discomfort as soon as you enter the living area. This can happen through dark, narrow corridors. They don't look very inviting, so you want to leave them behind as quickly as possible. This can already have a negative effect on the mood when leaving and entering the apartment. To prevent this, you should make the entrance area as inviting as you would with other rooms.
Artistic and realistic canvas pictures that shine in the most beautiful colors are suitable for this. At Wandmotiv24 ​​we offer high-quality canvas prints for the hallway in different genres , so there is something for every taste. These murals can be discovered here:
Abstract motifs: Abstract pictures appear artful and interesting, so that the viewer likes to get lost in them. If the entrance area is to appear particularly elegant, canvas pictures with abstract lilies in gray and silver are suitable. Canvas prints with abstract lighting are particularly eye-catching, because they bring atmospheric light into a dark hallway. If the entrance area is rather simple, a canvas painting with a graffiti motif can be the perfect splash of colour.

Views: Most people love to let their gaze wander into the distance and dream of foreign places. There are usually no windows in the entrance area, which is why it makes all the more sense to enhance the free space with a nice holiday motif.

Buildings: Impressive buildings are always worth at least one look. So you can see the Pyramids of Giza or the Trevi Fountain in Rome in the hallway.

Flowers and plants: Natural motifs are at least as beautiful. There is a choice of colorfully speckled flower meadows, but also macro shots of delicate petals.

Digital Art: These special motifs from digital art are one thing above all: creative, colorful and expressive.

Eating and drinking: Food and drinks only belong in the kitchen? Far from it, because with these motifs you can already look forward to the meal in the hallway. In addition, fruit and vegetables in particular are colorful to look at. They stand for a special degree of freshness and give energy.

Vehicles: Technology and vehicle lovers will get their money's worth with these canvas prints.

Fantasy: Fantasy motifs let us easily immerse ourselves in other worlds and dream. Imaginatively designed animals, symbols and mythical creatures make these canvases special eye-catchers.

Gold Collection: The color gold looks classy and conveys a touch of luxury. Many different motifs can be presented well in a gold-metallic look, including faces, animals, but also individual details such as a woman's lips.
However, this is only a small selection of different genres. Even more great motifs can be assigned to the themes of art and paintings, landscape, sea & water, sports, forest and space, for example. There are also canvas prints for motivation with inspirational sayings and pictures . It is best to simply use our practical filters in the menu to only show you the pictures that correspond to your preferred genres.
Great entrance in the first room of the house
In our shop we offer you wall motifs in different sizes . For example, choose between small (40 × 30 cm), medium (60 × 45 cm), extra large (100 × 75 cm) and huge (120 × 90 cm) . Depending on how much space your hallway has, you can cover a large area with the canvas picture.
Our canvases are stretched on 17 millimeter thick wooden frames . The production takes place in the in-house wood processing . The modern printing process not only creates a high color saturation and intensity , but also a long color fastness .
The canvas itself consists of 100 percent polyester and has a surface structure that appears to be alive . Due to the satin matt surface, neither the sun nor other light sources are reflected in it.
In order to make the big appearance of your canvas picture perfect, you should make sure that it fits perfectly into its surroundings in terms of size, color and motif. Not only the colors of the corridor walls are decisive for this, but also the look of the furniture, such as shoe cabinets, chests of drawers and clothes racks.
[Infographic]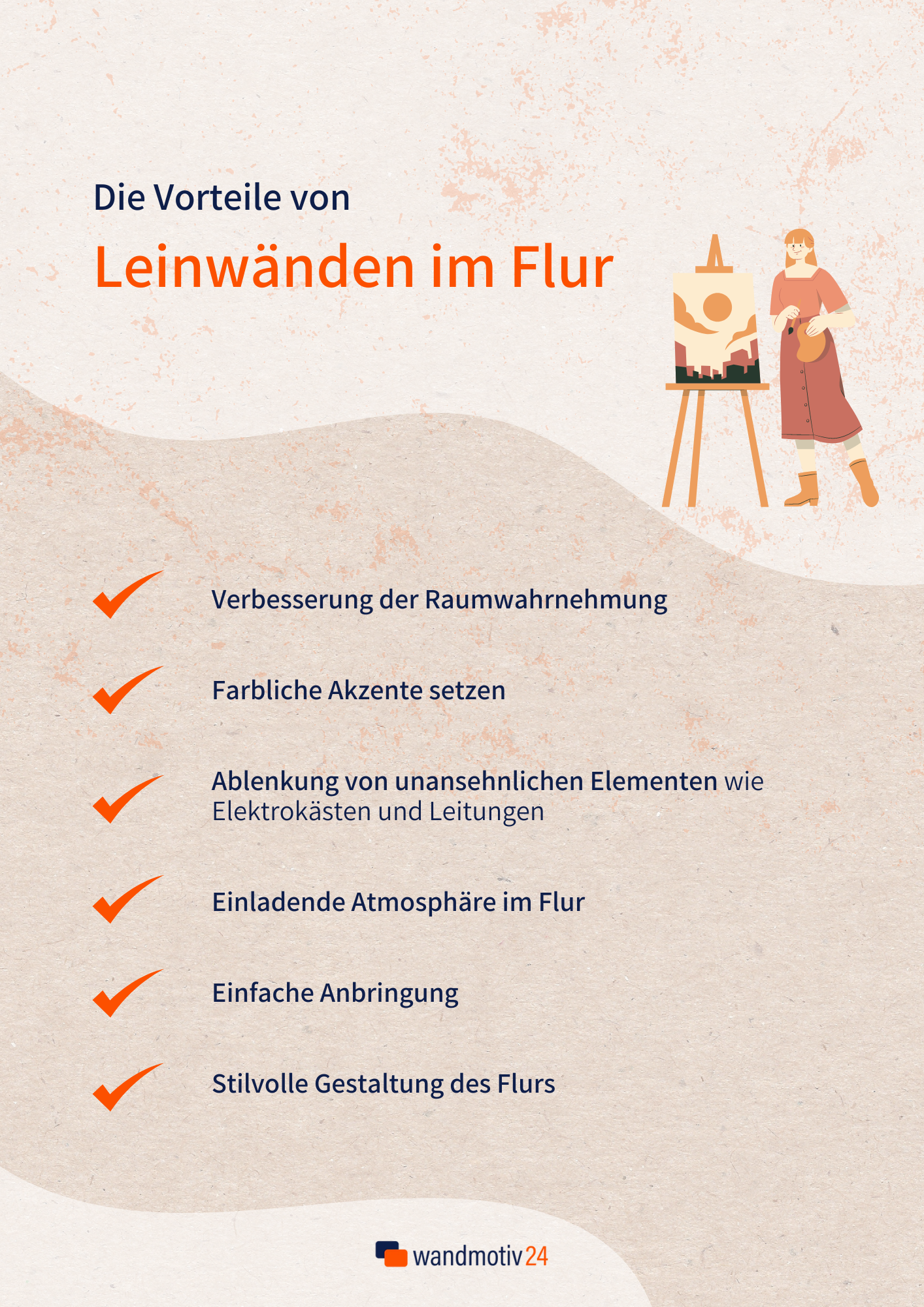 Individual wall design in the reception room
The best thing about canvas prints for the hallway is that they are so individual and make every entrance area unique. They convey anticipation of cozy hours in the house or apartment, invite you to eat together in the kitchen or say goodbye to us and our guests when leaving.
Canvas prints also radiate life energy and inspiration , especially when they contain motivating sayings or show great regions of our planet. Exactly what most people want after a hard day's work or at the start of the new week.
Large selection of images for your hallway
The different genres already mentioned make it clear: In our shop you will find a huge selection of motifs for your entrance area. The best thing to do is to start right away and get your first inspiration. You can filter according to the categories theme, product type, material, room, colour, size and price .
So you are guaranteed to quickly find a motif that perfectly suits your ideas and requirements.
FAQ
Beautifying the entrance area with canvas prints is a good way to make your home even more homely. What you should now know is the best way to hang and frame canvases. In this area you will also find answers to the questions of which pictures fit into a hallway and how best to combine several with each other.
Which pictures fit in a hallway?
Basically, your own taste decides which canvas pictures you hang up in the hallway. Plant and nature motifs are particularly effective there because they refresh the room and usually convince with friendly colors.
What is the best way to hang canvases?
Hanging a canvas picture on the wall is not difficult. It's best to use a spirit level for this, because that way you can make sure that the picture is hanging straight. Then mark the position of the suspension on the wall, for example with a pencil.
To hang up the picture, it is best to use nails, wall hooks or other suitable hanging methods. Finally, you should check again whether the picture is mounted securely and straight on the wall.
How do I frame canvases?
It is possible to frame a canvas picture on a stretcher frame or in a floating frame. In the former case, the stretcher frame must be attached directly to the performance profiles, while in the variant with the shadow gap frame, a gap remains between the stretcher frame and the strip profile. In this way you can also readjust the screen later.
Which murals go together?
If you want to combine several murals in the hallway, you should make sure that they create a coherent picture in terms of size, motif and color.
Conclusion
The hallway is often not given that much attention when designing the living space. It's the area we enter first when we come home. It should also look correspondingly inviting and appealing. A neat and well-decorated entrance area welcomes you and your guests and radiates warmth.
With canvas prints for the hallway, as you can get them from Wandmotiv24, you have the opportunity to make something great out of your entrance area. Take a look at the different products and let yourself be inspired by blooming landscapes, abstract art and imaginative motifs. The images shine in beautiful colors thanks to high-quality prints.