Canvas Prints Nature
Bring nature into any room you want! As the? With a beautiful canvas picture you have a decorative accessory that also brings nature into your home . And best of all: A variety of formats allow wide landscapes and small details to really come into their own. Natural spectacles find their place in your personal living room ideas.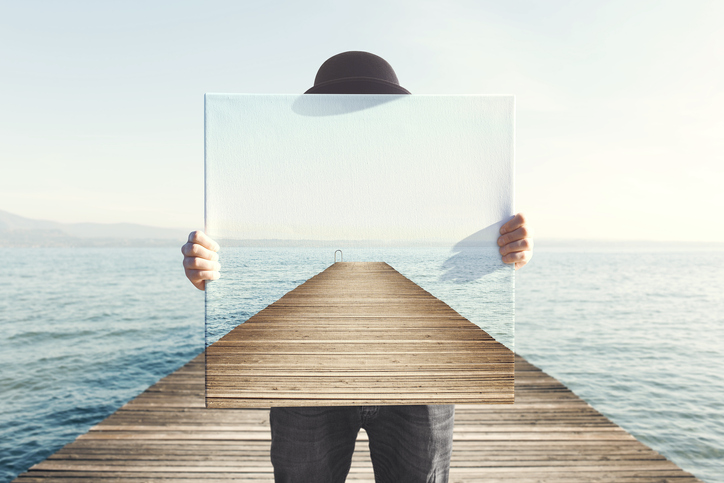 Images that are both calm and captivating
Do you want to recharge your batteries for the rest of the day after a hectic day in the office? Or are you looking for a place of rest and retreat to start the day relaxed ? Everything is possible. Discover new spaces full of possibilities in your home.
Or are you more of an explorer planning your next tour? Whether breathtaking heights or sea wonders: nature has countless facets to offer. What awakens your urge to explore? What fills you with anticipation for your next adventure?
Or do you want a very special eye-catcher?Canvas prints with shabby motifs add a special style to any room.
Nature canvas prints take you on a journey
No vacation in sight? Just start right from your apartment in the short vacation that is perfect for you. Pure nature without long arrival times. Fantastic beaches without tourist floods. You're there first and can stay as long as you want. Ready for the next trip?
Integrate nature into your living room
Your living room can become a space for unlimited possibilities. Do you like to watch the sun go down or do you prefer to dance across a flower meadow? Which moments have given you new energy so far? Where do you spend your holidays and where do you spend the weekends? If you weren't going about your daily routine, where would you like to be?
Discover your longings and bring them into your living room. Natural spectacles in particular have the power to give us new energy. We can refuel without actually being on vacation. It has now been scientifically researched that our brain cannot tell the difference. So why not use your own living room as a space for unlimited possibilities?
Your soul can relax
Simply let your soul dangle in beautiful natural spectacles. This doesn't just work in the living room. Your own bedroom can also be seen as a space for relaxation.
Do you want to fall asleep at sunset? Or in the idyll of the forest? Are you longing for a quiet or a romantic atmosphere? Do you want to wake up with a sea view? Which view impresses you and gives you a powerful start to a new day full of tasks?
Depending on the experience of the viewer, landscapes unfold different effects. Let yourself be impressed by our diverse selection and find your individual feel-good atmosphere for your premises.
Nature canvas prints - this is how you make the right choice
Art, too, draws its inspiration from the fundus of nature. The motifs from nature show their different facets in photography and painting. Paintings and photos on fine canvases are particularly effective. There the pictures get a very special depth and radiate a liveliness . Roaring seas can take center stage just as much ascanvas pictures with stones . How do you want to beautify your home or impress a loved one with a gift from the heart ?
Various formats
In our shop you have the choice between one-part murals and multi-part nature or landscape motifs . The multi-parts consist of five canvases , which together result in a motif composition. It doesn't matter whether you choose a canvas in portrait or landscape format, you also have the choice between different sizes to suit your individual room structure.
The right size for the room
Large formats best beautify the free wall surfaces in the living room, for example above a low but long sideboard or the couch. Even seminar rooms or reception areas of companies can be designed to be eye-catchers.
Medium and large canvases allow nature to enter the bedroom. Canvas pictures suitable for children's rooms not only make children's eyes shine.
Medium and small formats can optimally upgrade sober office furnishings or make waiting areas in surgeries more inviting.
How much space is available in the room of your choice? Measure the free areas in each room and plan enough space between the furnishings and the mural. Especially with multi-part motifs, you can play well with the space between the individual canvases and adjust it individually according to your available space.
Various smaller murals can also be put together to form a gallery. Canvases of different formats and sizes can become very special eye-catchers. On the other hand, large-format landscape shots can be particularly captivating and literally draw the viewer into the atmosphere created.
Variety of motives
In addition to the variety of formats, we also offer a wide variety of motifs to choose from. From the stunning mountain scenery rendered in black and white to the tree art that catches the eye of the beholder in the colorful leaves. From classic to modern, from photography to painting. Tastes are just as different as the requirements dictated by the respective room. A coherent overall work can only be created if everything harmonises with each other.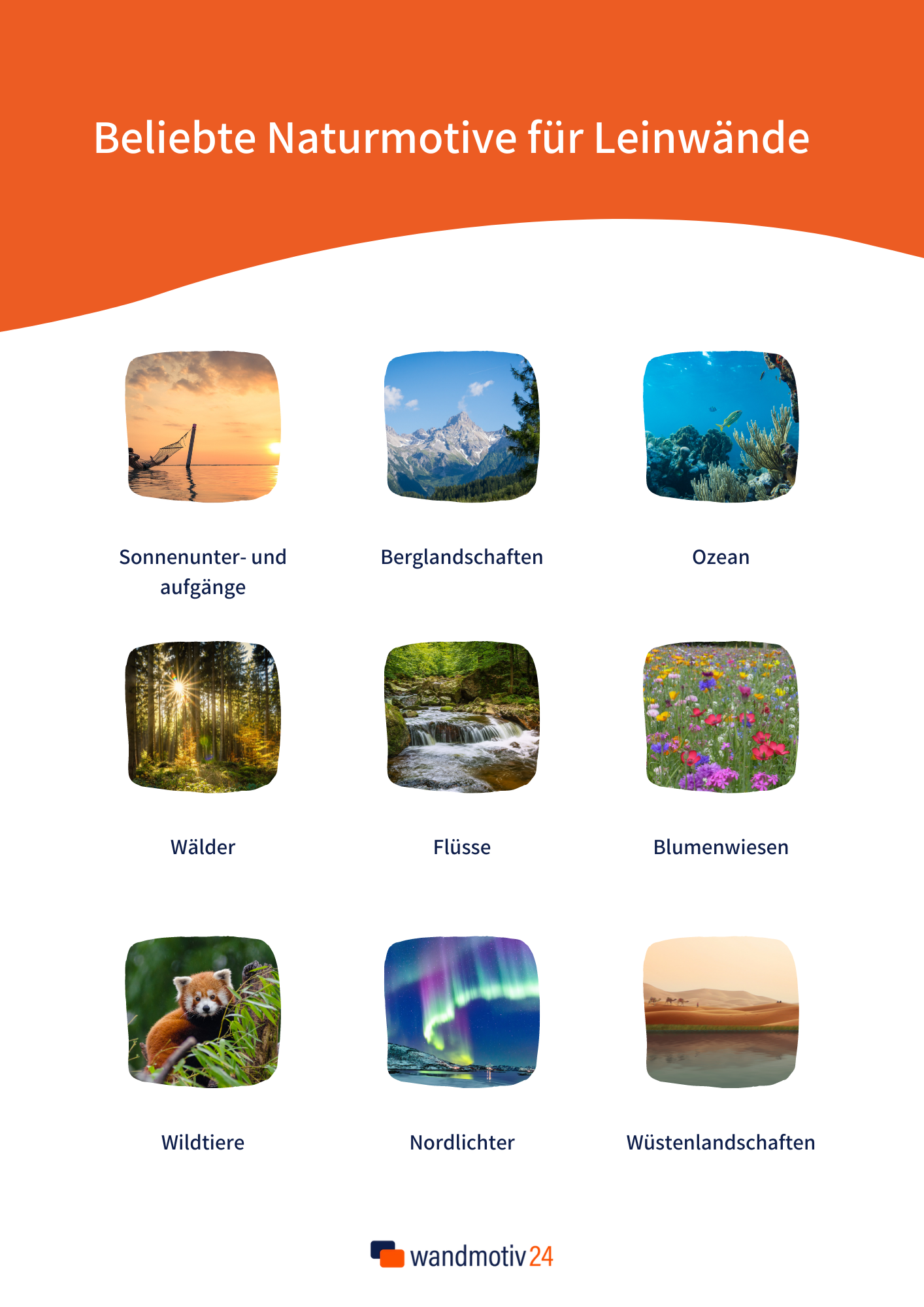 Quality
Quality is important to us . With the living room decoration you order from us, we want you to hold a result in your hands that will accompany you for a long time . We therefore rely on brilliant colors in our pictures. Our dedicated graphics department takes care of the print data with passion and so we can also convert your individual image files into canvas .
Regardless of whether your individual wish is to be implemented or whether you choose from the wide range of canvases: Our quality is convincing. You will receive a high-quality, finely embossed photo canvas with brilliant colors and impressive sharpness . We manufacture the frame by hand and also stretch the canvas pictures by hand on the real wood support frame .
You can expect high light resistance and permanently bright colors . The high-resolution print is applied to a professional canvas fabric. We use solvent-free ink that carries the GreenGuard Gold Label . In short: quality is very important to us.
Natural canvas paintings for different rooms
Meadow landscapes in the kitchen? Eye-catchers in the hallway such as plants, forests or sunsets? Why not? Bring that certain something home! Bare walls were yesterday. Your imagination knows no boundaries!
Your surroundings should be more inspiring or radiate more serenity? It is your life. We have the corresponding offers of the most diverse categories. Whether trees, flowers or water: Whatever makes you feel good in your home is suitable.
Some of our customers give their rooms themes. For example, the bathroom is completely green, a small fountain provides a constant splash, stones and concrete adorn the floor and a large-format mural with a forest ties the landscape together. Even if you don't have a garden, you can make your feel-good place varied with nature motifs.
FAQ: Canvas Art - Nature
What questions do customers have about nature canvas prints?
Where are the best canvas prints?
Wandmotiv24 ​​scores with the highest quality in terms of canvas, print quality and related materials and services. Manual work and quality of the products are very important.
How much do canvas pictures cost?
Prices vary greatly depending on size and quality. The range for the price is between 17.90 and 129.00 euros.
How to design a canvas
From one-piece canvas pictures to multi-part canvases, there is plenty of scope for creativity. However, no white border should be left when personalizing. Copying and mirroring ensures that a new border is created while allowing the subject to be seen in full on the front of the canvas print.
Which photos for a canvas?
The type of wall decoration determines the minimum usable resolution . For a 20 x 20 cm canvas picture, the image resolution should be at least 310 x 310 px.
Conclusion
A canvas picture is not the same as a canvas picture. For convincing prints it is important to rely on quality. Especially with canvas prints there is a visible structure. Linen fabric exudes a sense of style and an air of exclusivity.
Which motif you choose depends on the one hand on the nature of the rooms, but also on your individual preferences. A large sky in the hallway can score just as much as rushing water in the otherwise structured study.
The best thing to do is to start looking for your favorite motif right away. However, if you do not find exactly what you are looking for among the motifs, you can of course also create your own individual canvas print.