Canvas prints - children's room
The children's room is the room where children can play, but also relax and dream. If the children are still very small, it is up to the parents to make the children's room as nice and comfortable as possible. However, not only playful furniture, fluffy carpets and bright wall colors help. Matching canvas pictures often provide a special charm.
When looking at the pictures, children can lose themselves in other worlds. This stimulates their imagination, which plays an important role in the development of every child. In our online shop we offer great canvas prints with exciting or dreamy motifs. There is guaranteed to be the right canvas for every child!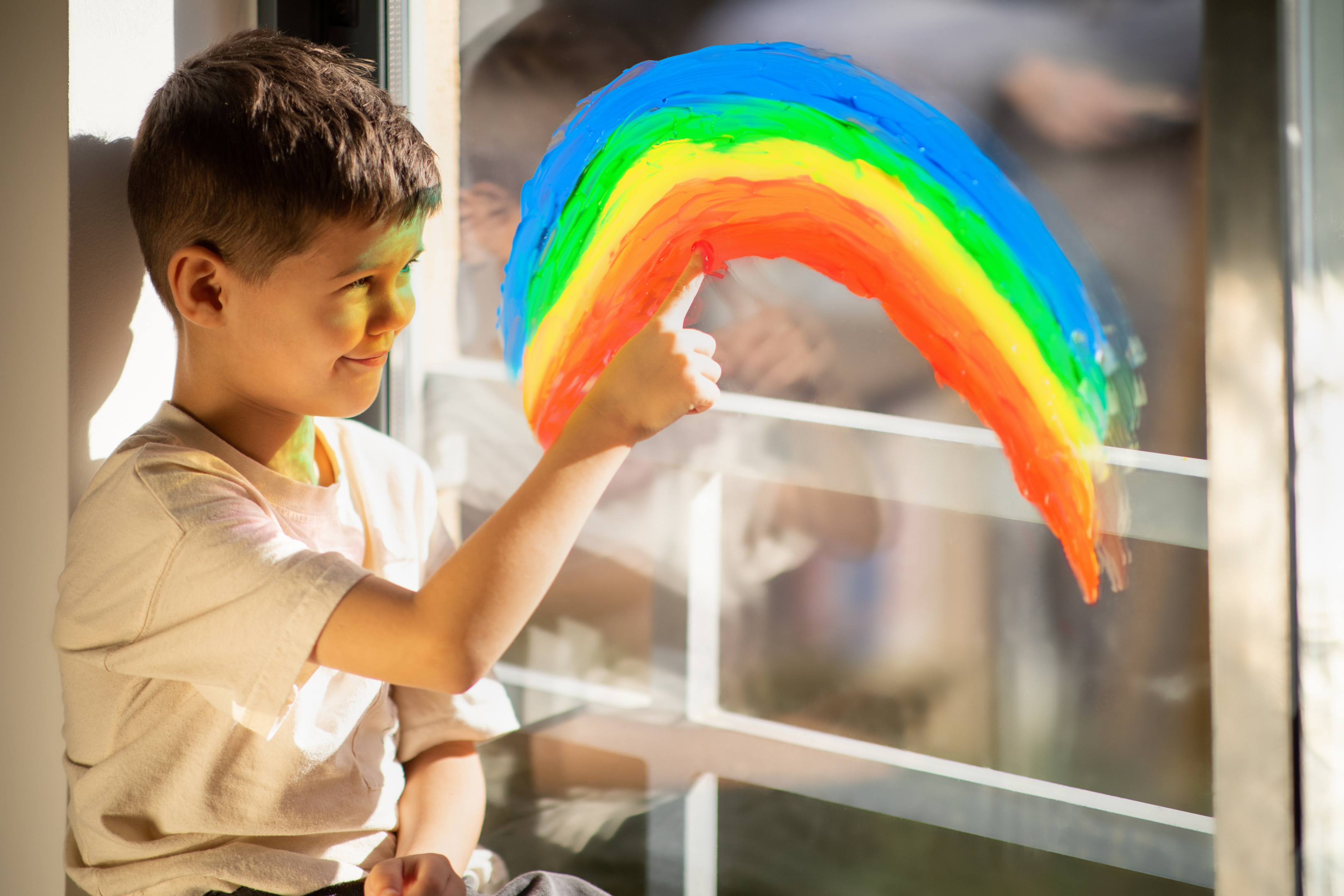 Canvas prints for the children's room - when the walls tell stories
Many children love to be told great stories about exciting adventures about their favorite heroes. With the right canvas prints, these stories become even more tangible. This makes it easier for the children to imagine characters better and to immerse themselves in invented worlds.
Children don't necessarily need moving pictures like those on TV or tablets. Appealing photos and drawings are enough to bring stories to life. It's best to try it out right away. Depending on whether your child is more interested in canvases with animal motifs or mythical creatures, you can give them real joy with a corresponding canvas picture.
It gets particularly exciting when you come up with a few good stories about the characters shown and tell them in the evening, for example. Your child is sure to be looking forward to the sequel and will always think of it when looking at the canvas picture.
Inspire the imagination with canvas prints for kids
Although canvas prints are colorful and show different characters, they still leave a lot of room for your children's imagination . They can watch a romantic sunset behind a great natural backdrop or set sail with Noah's Ark.
Small-format pictures are often enough to stimulate children's imagination. In the children's minds, these become something bigger and finally completely new worlds are formed from them.
It is important that you and your children find out which characters and motifs they particularly like. Is it more the animals that go on a discovery tour in the jungle or rather a graceful fairy that appears tiny next to the colorful blossom? Once children have reached a certain age, they should be able to have a say in the design of their room.
Exciting and enchanting murals for children
In our online shop you can discover exciting and dreamlike motifs together. The cute Koi fish in the pond ensure relaxation in the children's room, while the thirst for adventure is awakened by enchanted palaces, castles and nature .
Furnishing children's rooms with canvas pictures has several advantages : It helps children to occupy themselves for a while and at the same time stimulates their imagination. Especially the latter is extremely important for the psychological and physical development of children.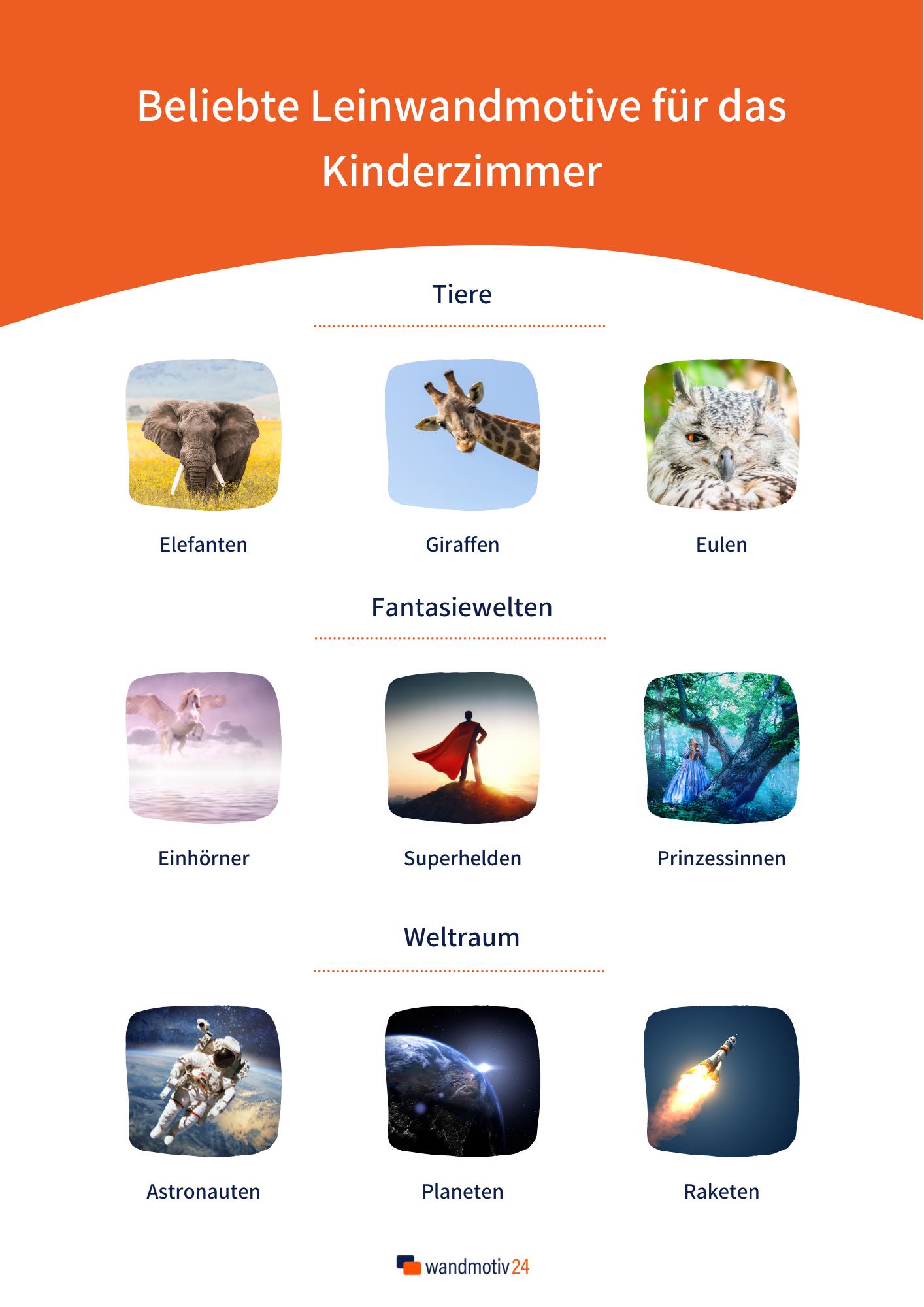 Beautiful pictures for the design of the children's room - animal world
Most children - whether boys or girls - love animals or at least find them very exciting. This is also the reason why we offer so many different animal motifs for our canvas prints. Maybe your child can already name a favorite animal or likes to play with certain animal figures? You should include these factors when choosing the right canvas picture. A special highlight in the room are multi-part canvas pictures .
Here we explain what we think are the advantages of the different animal motifs , to make your choice easier.
Horse
Not only girls are often horse fans, boys can also be enthusiastic about the graceful animals . Horses radiate security and at the same time arouse a feeling of freedom . Our canvas horses either stand in the pasture of a colorful horse farm or pull the carriage.
The magical form of the horse is the unicorn . It has magical powers, a colorful mane and can even sit on clouds. A dreamy backdrop in the background makes the unicorn pictures perfect for dreaming .
butterfly
Butterflies bring lightness and playfulness to every child's room. They seem to fly around carefree and convince with the strong colors of their wings. The little animals can evoke associations with a day on the flower meadow and thus take the child to other worlds.
The canvas picture with butterflies and butterfly fairies in delicate shades of pink looks magical.
Dog
They are not called man's best friends for nothing. Dogs exude security because they are known for being loyal to their people. They are available in different sizes and colors. Children often empathize with animals and begin to let them speak in their heads. This motif is not only suitable if the child has its own dog.
cats
Cats are also popular pets , but they are less easy to tame than dogs. They have their own mind and enforce it. That is what makes them so fascinating and mysterious for many people. Many children love cats because they can be petted and the soft purring has a calming effect. That's why cats are also represented on our canvas motifs and can spice up the children's room.
How to choose a canvas picture correctly?
With so many canvas prints to choose from, it can be difficult to find the perfect one for your child's room. It is important that you primarily include the wishes and needs of the children , but do not ignore other aspects. These include, for example, the furnishings of the children's room and the age of the child . Gender plays a subordinate role, because most canvas prints are equally suitable for all genders .
Canvas prints for all ages
It doesn't matter whether your child is still a baby or a bit older: In our shop you will find the right motifs for every age. Of course, babies and toddlers do not have such high demands on a canvas picture. Pictures with patterns and colorful elements are usually enough to stimulate their imagination.
If the children are a bit older, they might expect a little more from a canvas picture. The motifs can then be a little more complex , so that the children can get a feel for the scenes.
Canvas paintings for each gender
We offer the right canvas prints for every gender . Many girls like warm colors like pink and red, while boys often prefer blue and green tones. However, this does not mean that it has to be so in every case. What counts is that the child feels comfortable with the colors and figures in the pictures, everything else should be secondary.
A girl can of course prefer motifs with wild animals in the jungle or a soccer player and a boy pink fairies or a horse-drawn carriage. It is best to ask your children directly what they would like to see on a canvas painting in their room.
High quality canvas prints for children
Our canvas pictures for the children's room not only look good, but also convince with the extremely high quality of the materials used. To ensure this, each picture is handcrafted in Germany . Due to modern printing techniques , brilliant colors are created on the canvas, which can visually enhance any room. The canvases are also lightfast and very durable .
Conclusion
Children's rooms are the places where children can let off steam and relax. They should therefore be equipped in such a way that a feel-good atmosphere is created. In addition to child-friendly furniture and matching carpets, canvas prints are a great way to add color to the room. Children can immerse themselves in other worlds while looking at them and continue to spin them in their heads.
On our site you will find a large selection of canvas art for children's rooms. Whether playful animals, cute patterns or fantasy figures - these products bring joy to children of all genders and ages.
Due to the high quality of our canvases, lightfastness and durability are guaranteed. In addition, the canvas pictures can be wiped off, which is a great advantage in the children's room.