Wall mural office
Your office work is monotonous and boring? It does not have to stay like this! Beautiful office spaces can often be conjured up with just a few tricks. Because one thing is certain: How comfortable we feel in the working environment depends not only on the size of the monitor, a desk of sufficient height and a comfortable office chair. The design of the environment also plays a large part in how productive and creative people are during their daily work.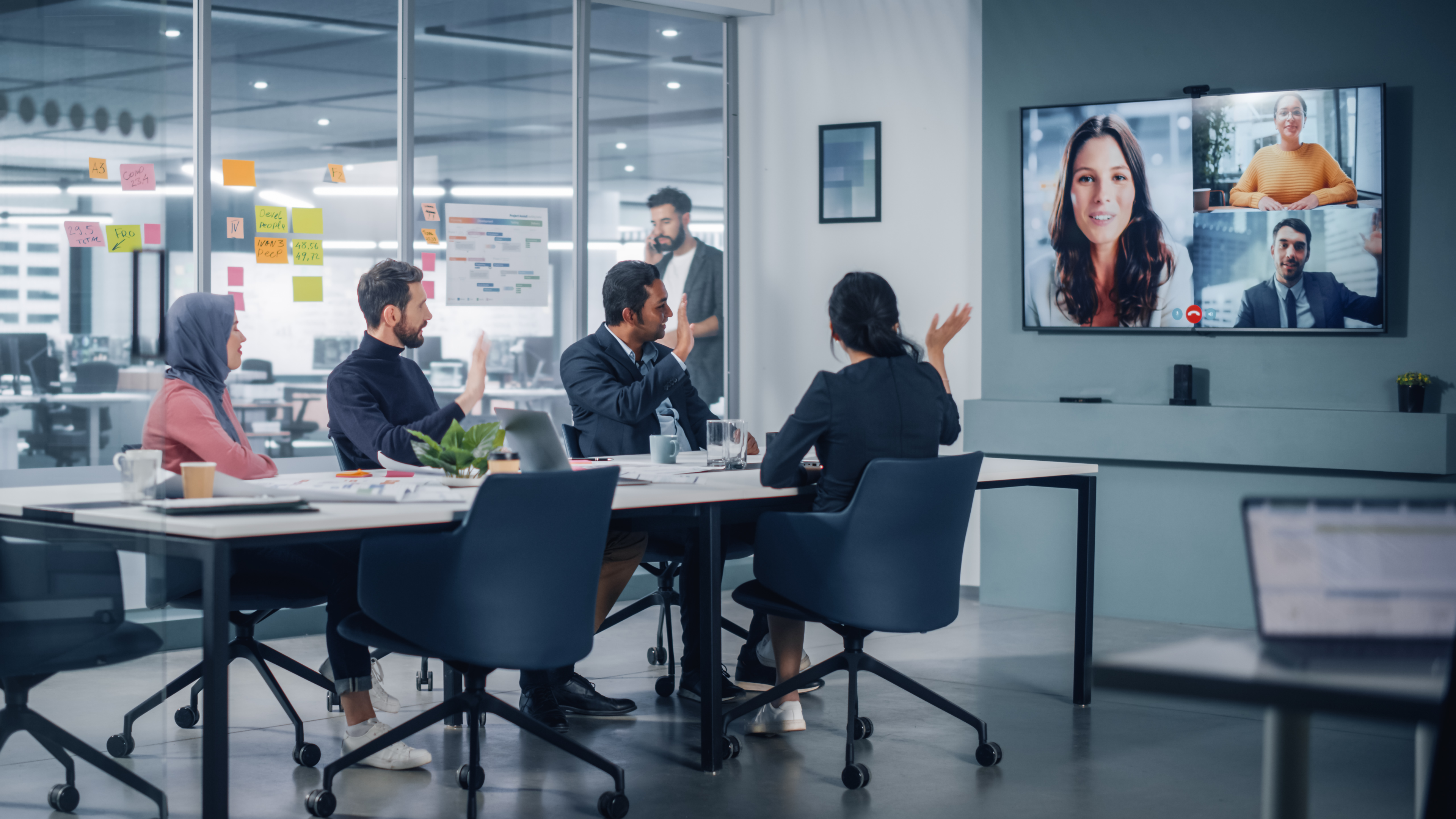 For this reason, we offer inspiring and beautiful photo wallpapers in our shop that are ideal for office work and home office. For example, let your gaze wander over a soothing wall motif during pauses in thought or look at a colorful marble wall. Depending on the work you do, such a motif can give you completely new ideas and solutions.
Photo wallpaper in the office for a pleasant working time
Many people spend 6 to 8 hours a day in the office. A long time, which is often characterized by stressful tasks and concentrated work . However, all of this consumes resources, so we can feel drained at the end of the working day.
To counteract this and at the same time to make the working atmosphere more pleasant, photomurals with calming motifs are a good choice. They convey a pleasant atmosphere in the room from which employees can benefit.
In a good working environment, it is also generally possible to work particularly effectively . In the office, you often have to stare at a screen for a long time, which tires your eyes out over time. Then it is all the better if in between the look at a beautifully designed wall, for example in the Shabby look , can fall.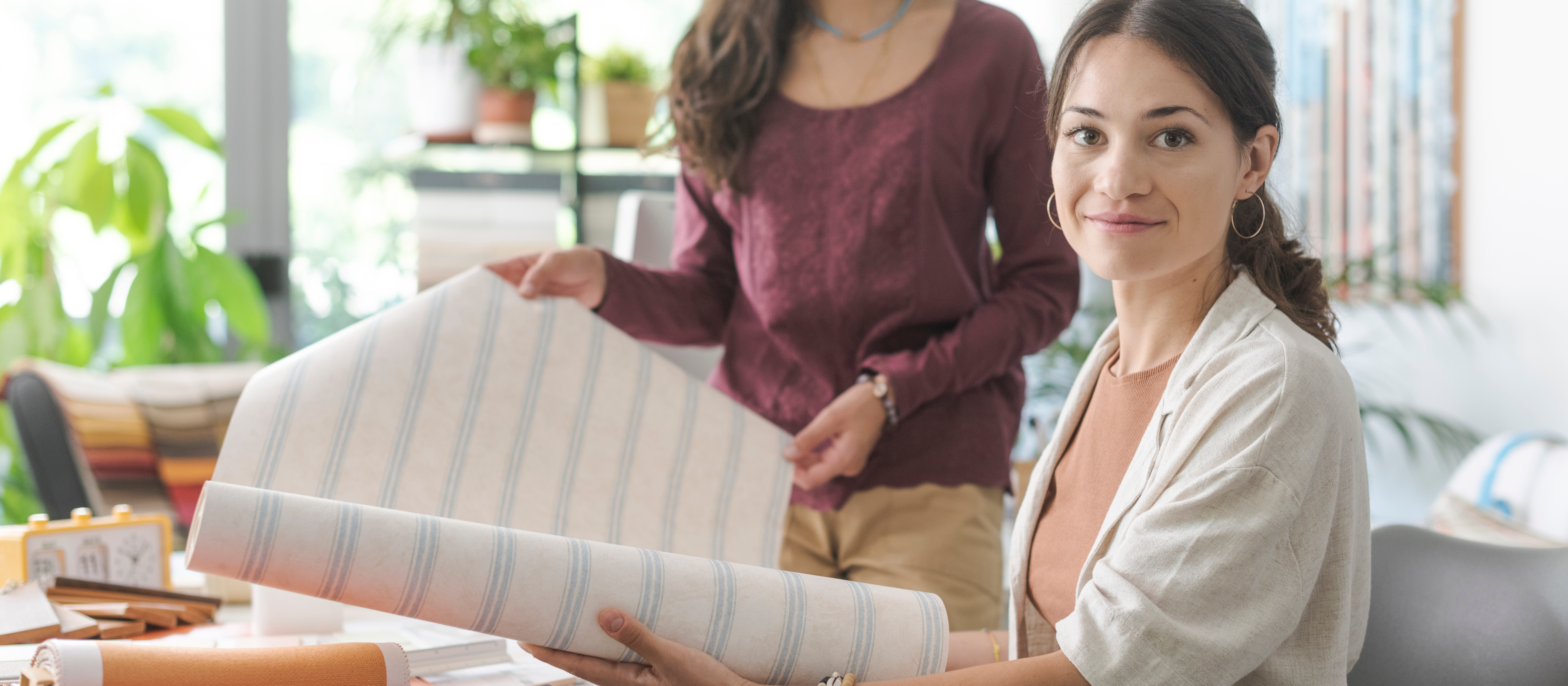 Unbeatable motifs for the office
Which photo wallpaper you ultimately choose for your office is - if it is your own office - of course entirely up to your taste. Nevertheless, we are giving a few suggestions here so that you know which wallpapers are particularly popular in the office.
flower wallpapers
A photo wallpaper with a floral pattern radiates one thing above all: happiness! Something that is sometimes decidedly neglected in the dreary working day. With a photo wallpaper that is reminiscent of a flower meadow or shows individual flowers in delicate colors , you bring a piece of nature into the office. You will certainly quickly notice the positive feelings that such a beautifully designed wall can evoke in you.
Nature and landscape motifs
Nature and landscape motifs often have a calming effect . In everyday office life, they invite tired and stressed eyes to linger for a while. Small breaks from the screen are important so that the eyes can regenerate and full concentration is maintained while working.
Nature wallpapers show, for example, forest clearings, deep blue lakes or beaches, but much more. They can promote the creativity of employees, especially in creative industries. A wallpaper with a nature or landscape motif is often dominated by the colors green and blue . These ensure demonstrably more balance in everyday life . There is something comforting and earthy about brown or yellow tones, which is why they are also popular in offices.
A trip to the animal kingdom
Animals have a similar effect to plant or nature motifs and are extremely popular with many people. Depending on the type of animal, they are either very elegant or cute to look at . On office walls, they not only ensure positive feelings among employees, but also more motivation .
Many employees have to leave their pets at home during a working day. Of course, a photo wallpaper with an animal motif does not replace this, but it can evoke positive associations among animal lovers . Exotic animals such as the peacock or prehistoric giants that have already died out are also popular.
Comic style, creative designs and Co.
Who says that a photo wallpaper always has to look realistic? Comic-style murals, landscape drawings or unusual designs , such as a pattern that looks like old newspapers, are also inspiring. White dandelions on a gray background look dreamy, while a dark photo wallpaper, reminiscent of a cracked stone wall, appears mystical and mysterious.
Two glowing, fighting dragons can reignite the fighting spirit in the company , constructive sayings on the wall motivate you to go beyond your own limits. As you can see, the choice is huge. Let yourself be inspired extensively on our shop page.
Modern style in the office
Modern work should also take place in rooms with a modern design . Many of our photo wallpapers feature artistic modern designs, such as the abstract wallpaper with unusual graffiti or the white tunnel wallpaper with a 3D look . These pictures let you immerse yourself in other worlds, feel vastness and imagine unlimited possibilities.
Spice up your boring office space with a mural that shows graffiti in combination with a soccer ball or let purple balls seem to fly through the room. In an office with a modern design, screen work will go much faster.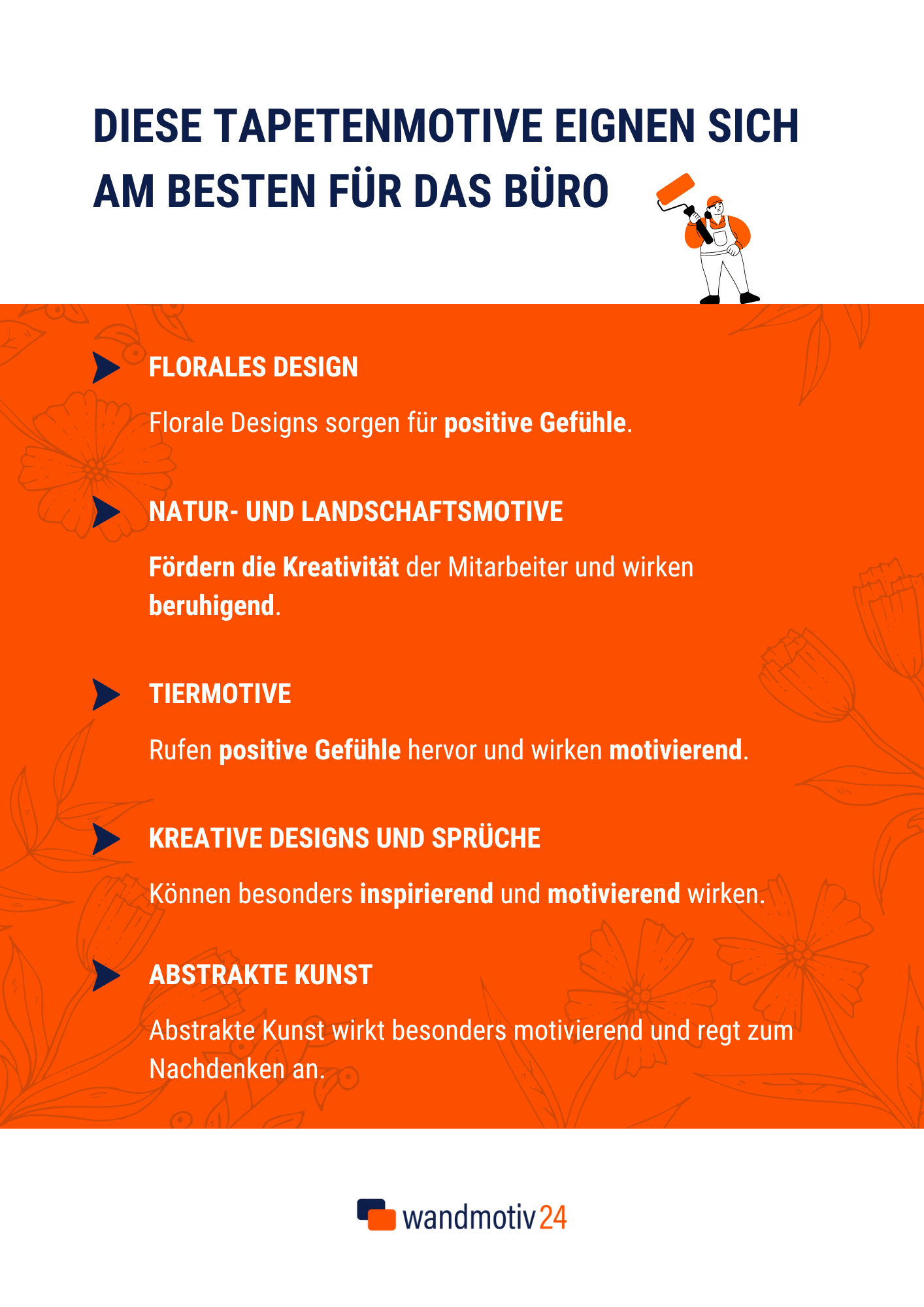 Why is choosing the right wallpaper crucial?
Depending on the colors in which a photo wallpaper is kept or which motif it shows, it can either be inspiring, promote concentration or promote creativity . It is therefore important that you deal with some important questions before the election:
What atmosphere do you want to create in your office?

Should employees concentrate on their work or be artistically versed?

What do the activities look like, what are the individual work steps?
All these questions will take you step by step to your perfect wall design in the office. If several people are to work in this environment, you should consult with them in advance.
Source of inspiration and motivation
Long office days can quickly become boring, especially when the work is monotonous. Effective sources of inspiration and motivation are then all the more needed from which employees can draw. Therefore, think carefully about what could be particularly inspiring and motivating for you or your employees. Is it more of a mural with an artistic marble look, a deer lounging in the morning sun on a meadow covered in hoarfrost, or a mural showing a piece of our galaxy?
Make sure that the motives match the field of activity carried out in the office or at least do not counteract it. For example, wallpaper depicting distant beaches or a map of the world would be nice to look at in a travel agency, while images of different types of vehicles would be more appropriate in a car dealership office.
promoting concentration
In the course of a working day, concentration can drop - that's absolutely human. Still, this shouldn't produce bad results. For this reason, photo wallpapers that promote concentration are particularly suitable for offices.
This can modern motifs, but also be forest pictures . It is important that there are not too many colors in it at once , so that focusing is easier. Maybe there's too much distraction in a medieval room.
In this case, wallpaper works better that focuses on just a few motifs , such as a large black motorcycle or fitness dumbbells. They remind you that you have to do something to achieve your goals and at the same time they spur you on subconsciously.
Provides a relaxing atmosphere
This point is often underestimated in the office, but it is at least as important as the other two. Of course, you should be productive in the office and not constantly dwell on your next vacation at the sea. However, it can contribute to a relaxed togetherness if the walls are decorated in shades of blue and green . These colors have a calming effect on the human psyche.
That is why photomurals with sky, sea or vast meadows are popular in offices. If you let your gaze wander over it from time to time while you work, it has a similar effect to the fantastic view from a window.
Of course, this is particularly advantageous in rooms without natural daylight. Also discover dreamy ones Motifs for the hallway with us.
Exceptional workspace for unbeatable results in the office
The office is the place where we do our daily and important work. No matter what job you work in, you should feel inspired and comfortable in the office. Therefore, make sure that it is not too monotonous and reflects your work and daily work. Do you often have to attend business appointments in the office? If that's the case, you now have the opportunity to present your Office in the best possible light .
Wall decoration as a highlight in the office
A well-equipped office includes comfortable chairs and tables as well as tools that are needed every day. There is usually not much room for personal or decorative items . But you can create a real highlight with a great wall decoration in the office. Everyone who enters the room will certainly notice it immediately !
Patterns and colors that make the office shine
Playing with matching patterns and colors in offices is at least as important as the right motif. When choosing a color, you should also pay attention to what the room is usually used for.
If you want to design a study where people often work quietly , the colors should be subtle , i.e. not obtrusive. In open offices or meeting rooms , relaxing blues and greens are best for a good culture of conversation .
So you can do a lot with colors. Another possibility is to pick up the colors of your own logo and present them on the wall. In this way, customers are automatically reminded again and again of the company building in which they are currently staying.
Size, material and use of the wallpaper
If you have already decided on a photo wallpaper, there is almost nothing standing in the way of beautifying your rooms. However, make sure that you measure the wall correctly and order the wallpaper in the right size . Don't calculate too tightly. It's easier to shorten a little than to cover up a gap that appears.
We supply high quality non-woven wallpaper . These can either be glued to the wall or ordered self-adhesive. Non-woven photomurals are characterized by the fact that they are particularly durable and robust . In addition, they do not expand when wet, as is often the case with paper wallpaper. In addition to non-woven wallpapers, we also offer self-adhesive textured wallpapers . These ensure a special haptic experience in the room.
Photomurals can be used in many different ways in the office. You don't always have to wallpaper an entire wall at once. Individual strips of wallpaper on otherwise plain-colored walls, wallpapers that are only attached around a door or those that are only in the lower third of a wall are great eye-catchers.
FAQ: Office mural
It doesn't matter which photo wallpaper you ultimately choose: What is certain is that photo wallpapers not only look great in private, but also in business rooms. But do you also know which photo wallpaper you can use to make a room bigger ? And what do you have to consider when installing the wallpaper ? We now answer these and other questions.
Which photo wallpaper makes the room bigger?
Wall murals that have a large proportion of the color blue often make a room appear larger. A possible explanation for this is that we associate blue with the vastness of the sky or the sea. But wallpapers that supposedly let the gaze wander far into the distance also have a space-enlarging effect.
What do you have to consider when choosing a photo wallpaper?
It is important that the photo wallpaper can dry well after attachment. For this reason, it should not be exposed to drafts the night after. The new wallcovering dries best at a temperature of 20 °C.
Which surface is suitable for a photo wallpaper?
The wall you want to put your mural on needs to be clean, dry and absorbent. Unevenness should be removed beforehand and holes closed with putty.
How to stick a photo wallpaper on the wall?
Photo wallpapers are delivered to you by us in individual strips. You should gradually wallpaper these on the wall. Always make sure that you lay each strip exactly next to the one that has already been wallpapered. There should be no bulges or unsightly gaps between the lengths of wallpaper.
Conclusion - wallpapers to beautify the office at Wandmotiv24
The design of office spaces should not be underestimated. After all, this is the place where you have to spend many hours a day, be creative, focused and productive. Great accents can be set with a photo wallpaper for the office. These help to recharge your batteries during work, provide motivation, but also ensure a more relaxed atmosphere.
In rooms that are often used for team meetings or customer talks, the colors blue and green should be used primarily. You can contribute to more willingness to talk among employees and customers.
If you want to beautify your office with a pretty photo wallpaper, you've come to the right place at Wandmotiv24. In our shop you will find expressive motifs, artistic images and realistic nature photographs for your wall. Simply choose what you think fits best in your business premises and benefit from a beautiful study from now on.